[an error occurred while processing this directive]


NEWS / UPDATES
This page last updated 12/02/2003
---
YEAR 2002 FLIGHT UPDATE
08/06/02 The IN-STOCK 2002 update photography of the following counties is available in full and/or partial coverage:

Alameda, Contra Costa, Lake (Clearlake area), Napa, Placer, Sacramento, Santa Clara, Solano, Sonoma and Yolo.

Specifications are 8.25" focal length, 9" x 9" color negative,
1" = 2000' negative scale, stereo.
See map below.
---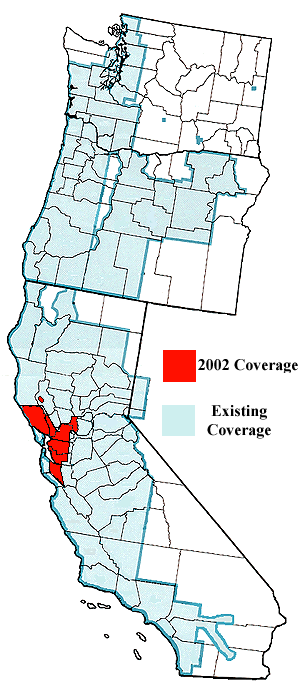 Let us know if you have an area that needs updating, perhaps we can add it to an existing flight or help to coordinate a co-op flight.

Need it now? Custom flights along with our stock coverage are our specialty!
---
More information on:

Coverage available
Pricing
How to order
Photos via email
---
(c)opyright 2002 WAC Corp