[an error occurred while processing this directive]


Where the heck am I?
For the month of February 2006
---
RULES:
There are no rules. However, all photos will follow these conventions:
1. All photos are from WAC's IN-STOCK library.
2. All photos will be North to the top, unless otherwise noted.
3. NO retouching has been done to any photo.
4. NO hints will be given out.
5. Answers for the previous month will be posted the first work day of the following month. A new photo will also be posted at this time.
6. There are NO prizes. This for your personal entertainment only.
Have fun! For extra points - guess the year.
Our archives go back to 1955 in some areas!
(these photos are scanned at low res , 72-100dpi, and jpeged to speed loading)
(C)opyright 1955-2006 WAC Corp. All rights reserved
Last month's answer: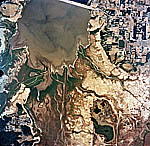 Fern Ridge Reservoir - West of Eugene, Oregon
From the WAC IN-STOCK Project - WAC-05-WV
---
All of WAC Corp.'s IN-STOCK photography is copyrighted. WAC Corp. will allow the use of these sample images in a web page as long as a link is included to our web site - www.waccorp.com and the (c)opyright notice. Use in a publication requires the byline "Photo courtesy of WAC Corp. Eugene, OR - www.waccorp.com (c)1955-2005 WAC Corporation" Under no circumstances may these sample images be sold. Any use not complying to the above constitutes copyright violation.
(C)opyright 2005 WAC Corp. All rights reserved